Great things have been happening with The Bearded Lady Project and opportunities to see the fruits of our labors are coming to a city near you.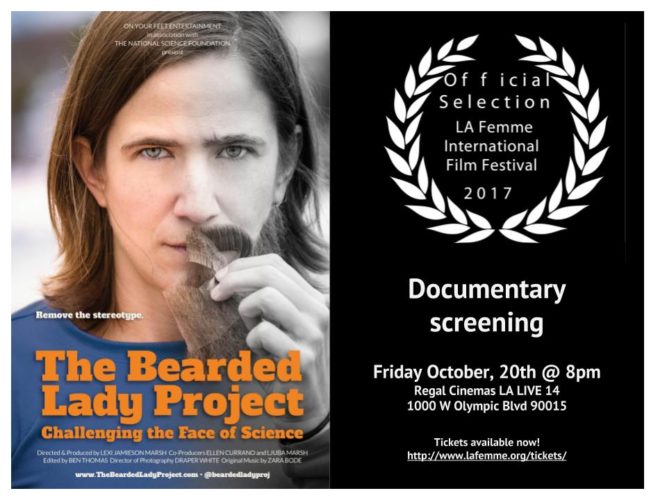 Come to a screening of the documentary in Los Angeles on Friday, October 20th @ 8:00 PM.  Purchase tickets here. Watch trailers for the documentary here.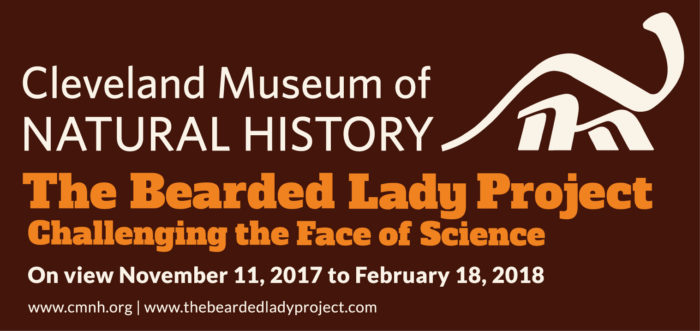 The first stop the traveling exhibition of the portraits is making is at the Cleveland Museum of Natural History, November 11, 2017 – February 18, 2018.  Visit the museum's website to see the events they have planned for the duration of the show (here).
The next venues for the show are in the process of being confirmed, stay tuned for the next stops on the tour.  Preview of the portraits here.
­Press Release:
The public is invited to attend the world premier of The Bearded Lady Project: Challenging the Face of Science on Friday, March 3rd. This film and photographic project celebrates the work of female paleontologists and highlights the challenges and obstacles they face. A preview screening of the documentary film, followed by Q&A with cast and crew members, will be held from 6:30-7:20 PM in Classroom Building, Room 133. The opening reception for the portrait exhibition will be from 7:30-9:00 PM in the University of Wyoming Geological Museum.
The Bearded Lady Project was co-founded by UW paleontologist Ellen Currano, film director and producer Lexi Jamieson Marsh, and fine art photographer Kelsey Vance. It started as a joke between Currano and Marsh, two women trying to succeed in male-dominated fields. Some days, both women agreed, professional life would just be so much easier with facial hair. Paleontology in particular has long celebrated large, grizzled or bearded men going out in the field, facing the elements, having a large pickax, and moving boulders. Upon further reflection, the joke turned serious, and The Bearded Lady Project was born.
Supported by Currano's NSF CAREER grant, Marsh, Vance, and director of photography Draper White traveled across the US and UK interviewing female paleontologists and, of course, taking bearded portraits of scientists in their field, laboratory, museum, and classroom settings. The exhibition will feature 40 of these black and white photographs that seek to recreate historical portraits of the female adventurers that are absent from science books and documentaries.
Admission is free, but donations are encouraged to support a scholarship fund for future female scientists. The portrait exhibition will remain on display until May 16.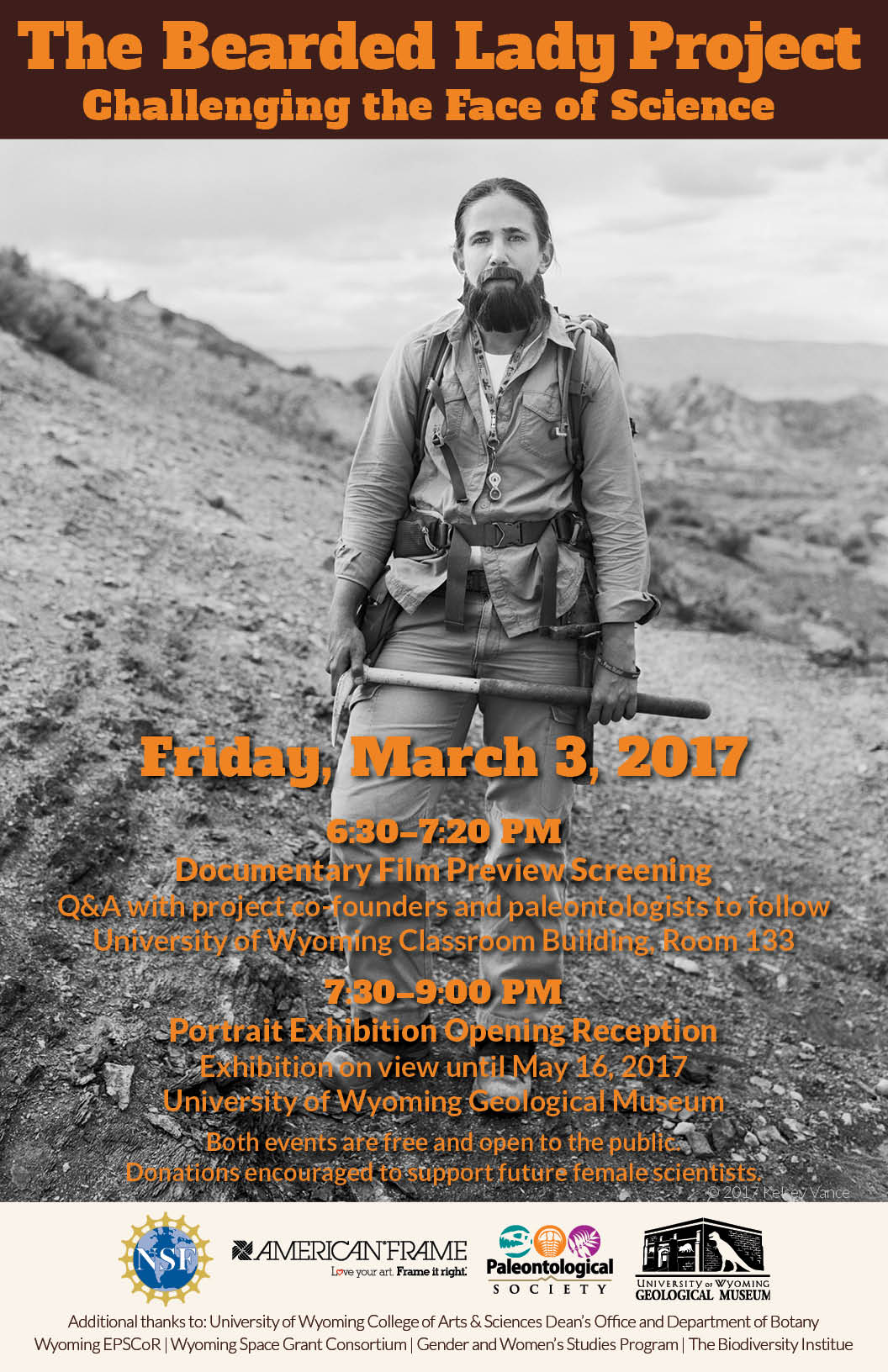 I love direct flights. I especially love direct flights when I have created a schedule, with such little wiggle room that a single delayed flight could throw the best laid plans, burning, off of a cliff. I love direct flights because we arrived to Denver, CO, thirty minutes early, beating Ellen, who was driving in from Wyoming to join us on our latest adventure. With checked luggage in hand, Kelsey and I shared a collective sigh of relief. Producing this week in Colorado would be one of my greatest feats so far on The Bearded Lady Project. The week ahead was both daunting and exhilarating because this was the week we were going to see all of the elements of our project come together.
First order of business, find some delicious food at our next location, Golden, CO. We found a great local burger joint for lunch, and set up shop as our collaborative group of three waited to meet our new crew member, Ben Thomas, or as we liked to call him, our Draper 2.0. With bellies full, our crew now on the same page, made our way to finally meet Dr. Karen Chin.
I had never met Dr. Chin in person before, but she had become an early part of the project after my haphazard google search for "female paleontologists" back in 2014. After reading about her work, I sent an email to her, describing our project and gauging her interest in participating. Lucky for us, Dr. Chin was very interested and we set up a phone call for later that week. She and I would have lots of phone conversations after our initial introduction; some were just to talk about life, others were to plan a couple of failed attempts to film her at her field site. Dr. Chin handled these setbacks with a lot of patience, so when we finally met in person, we both celebrated this long-awaited shoot.
With film loaded and facial hair in hand, we followed Dr. Chin up the hill to a parking lot where, just around the corner, fossils could be found. Dr. Chin was a natural. We found a fantastic spot for her portrait, bearded her up, and then walked down to a little nook where we could conduct the interview. Dr. Chin's research is fascinating – she studies fossilized dinosaur poop! Or as she likes to describe them, "ugly looking rocks." But in all seriousness, Dr. Chin is very passionate about her research, explaining, "It doesn't sound glamorous, but the amount of information these fossils provide is expansive." We covered a lot of topics during her interview, including what she enjoys most about working in the field and her experience as a female paleontologist of color. I am really excited to include Dr. Chin's captivating interview in the final film.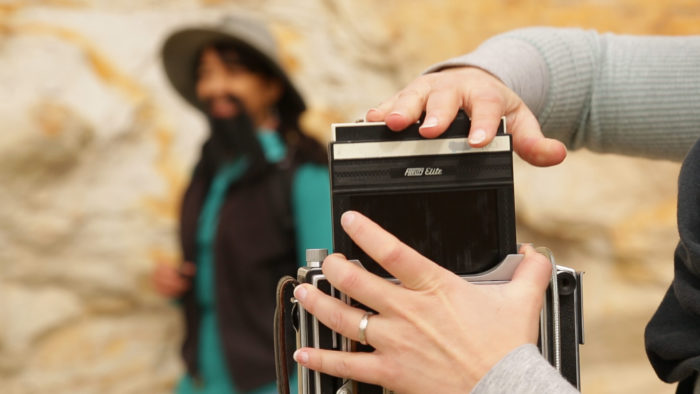 After our shoot in Golden, we made our way back to Denver for the night, readying ourselves for an important scout in the morning. Part two of our week in Colorado was meeting with the GSA team at the Denver Convention Center where we will unveil the portraits. The folks at GSA have been so supportive. We spent the morning wandering around the space, looking for the perfect location for the gallery. More on that later.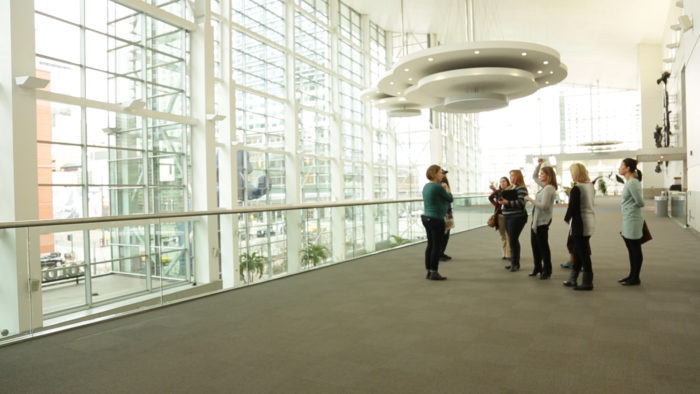 We said goodbye to Ellen, and then jumped into Draper's car and made our way into the mountains to edit and print the final portraits for the exhibition. For the rest of the week I played photographer's minion as I watched the bearded portraits come to life. It was a very busy, very successful week. To finish our last shoot together in Draper's studio, surrounded by animals and mountains, I couldn't have planned it any better. For an inside look at what it takes to print the bearded portraits, here is a video of what we were up to in Carbondale.
The Bearded Lady Project: A Week in the Life
from
Kelsey Vance
on
Vimeo
.
Back in February, Lexi pulled together her female friends and colleagues in the Cincinnati film industry to make a group portrait with the talented women she often has the privilege of working with.  She thought there would be a handful of people willing to partake in the group portrait, but to her surprise, nearly 30 women showed up.
This video is a behind the scenes look at that day and some insight into my portrait making process and the universality of The Bearded Lady Project's message.
A big thanks to J. Motts for shooting and putting together this short video of our Cincinnati shoot.
As we traveled north to Washington, DC, the sun shone brightly as melting icicles clung to road signs and trees.  We went to the south hoping for slightly warmer temperatures and arrived on the coldest week of the year.  Oh well.  Our roadtrip to DC featured a stop in Richmond, VA for lunch at a really delicious Hawaiian restaurant and to pay a visit to Candela Books + Gallery.  Upon arrival in DC, we were greeted with snow, evening temperatures dipping into the low teens, and an Airbnb with a whimpy AC unit for heat.  We quickly uncovered every spare pillow and blanket in the place and stuffed them against windows and around our bodies.
That evening we went to dinner with Dr. Kay Behrensmeyer and her husband Bill, Dr. Leslea Hlusko (previous bearded lady participant), and Dr. Scott Foss and his wife; it was a wonderful mix of paleontologists and ramen.  In the morning our crew played tourists and walked the mall, saying hello to Lincoln and paying our respects to far too many veterans.
In the afternoon we met with Kay, got our special access badges from the Smithsonian security and went where the public does not go (can I just say how fun it is to go into those doors in museums that everyone walks by, but no one is allowed to go into?!).  We wound our way through the back hallways of the Smithsonian to Kay's office where we had tea and helped Kay grow some facial hair in preparation for her portrait.  We made two portraits with her.  One in her lab where she is currently working on a fantastic Taradon fossil and the other in front of a diorama that is no longer on display and was being crated for storage.  Kay mentioned that what she loved most about this display was that it looked like the dinosaurs actually lived there. She pointed to footprints left in the mud, but added "If I had my way, those tree branches would be broken and there would be poop."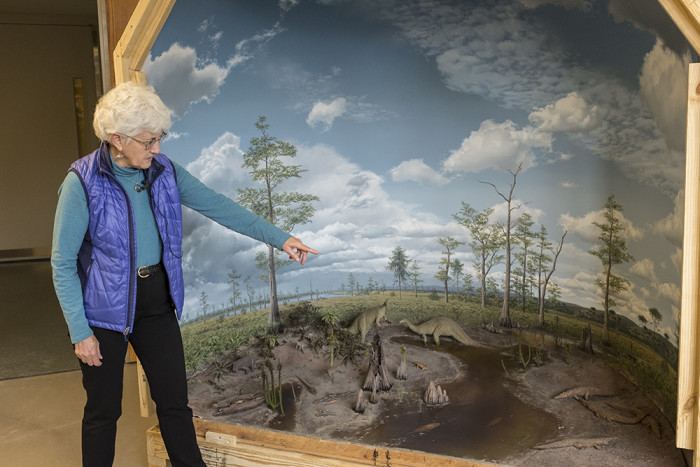 Post portrait we returned to her office to conduct her interview and took a walking tour of the museum to see where the decommissioned exhibitions were being stored as well as dinosaur bones of all species and time periods were hanging out, waiting for their day in the spotlight again.  She brought us to the working lab within the exhibition space where volunteers worked diligently (behind glass, like specimens themselves) to catalog and inspect the many samples museum scientists have brought back from the field.  The tour was such a privilege and so was the sneak preview of the new dinosaur exhibition Kay was in the process of curating (coming to your Smithsonian in 2019!).  Needless to say, the afternoon was so much fun and we did not want it to end.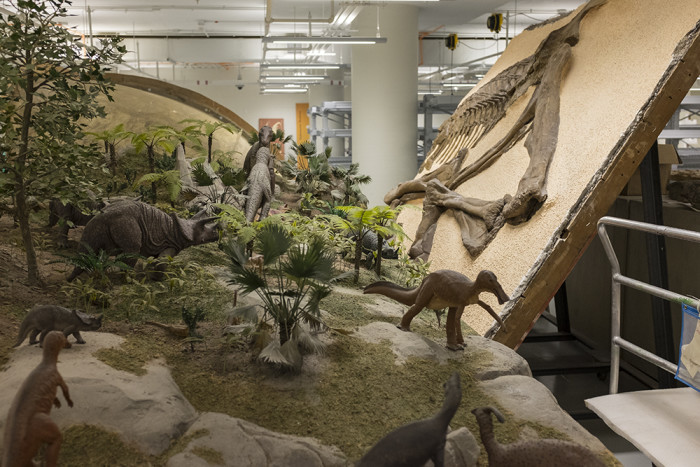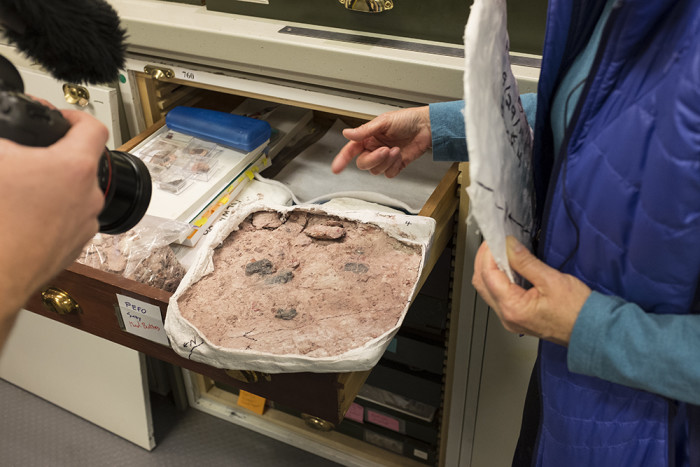 Getting home from this trip turned into a real project for Lexi and me, Draper made it home  to Colorado without a hitch.  Bad weather returned to the Mid-Atlantic region and on the morning we were supposed to fly out, I was awoken by a text from southwest saying our flight was cancelled and we got a reservation for the next flight out later that night.  As we drove north to the Baltimore airport, in a slightly slushy mess, we became less and less confident that our flight would be leaving that night.  So, Lexi and I decided we were going to hold onto our rental car and drive home, it was about 9 hours to our corner of Ohio.  Maybe not the best plan, but we had a little more control over our future.  While at the rental car facility, I received another text saying our flight was cancelled.  With validation for our decision Lexi and I hit the road, keeping a close eye on the radar down the pike.
The weather escalated as we drove west.  The roads were icy and the state wasn't exactly doing anything about them at all.  We were in the boonies on The 70 in Maryland, but I managed to get a cell signal to find a cheap motel ahead.  This motel was pretty sweet and a complete blast from the past, so much wood paneling and the green tile bathroom!  The only open restaurant was Pizza Hut, so we indulged and tuned into The Bachelor….
In the morning we de-iced the car and got back on the road, which still wasn't great, but better than the night before.  We eventually made it home at about the same time had we waited for the next flight out of Baltimore the following day.  Oh well, we had a good time, it didn't cost much, and most importantly, we made it home safe and sound.
When Kelsey and I traveled to Vancouver to attend our first scientific conference, the Geological Society of America's annual meeting, we had no clue what we were getting into. We were in search of paleontologists to include in our film and exhibition, but where to find them in the sea of geoscientists before us? With beers in hand, we wandered the exhibition hall and approached a friendly looking individual and asked if she was a paleontologist. This friendly person was Dr. Andrea Hawkes, someone we would follow into the field in 2015. "If you're really looking for a paleontologist to interview," she said to us, "you should ask that woman over there" and that woman was Dr. Patricia Kelley.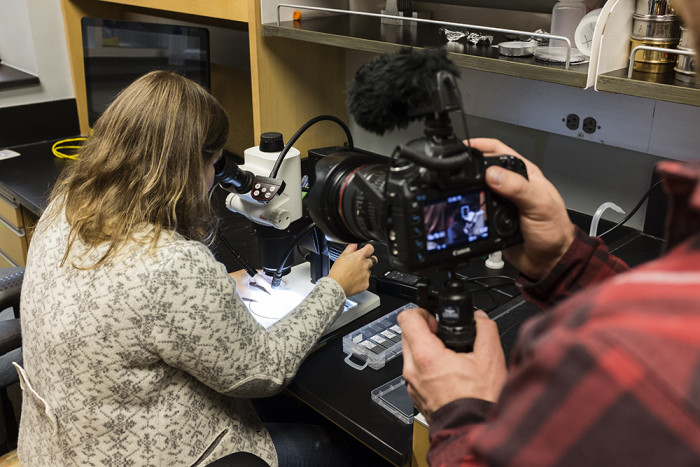 It took us almost a year and a half, but we finally made it to Patricia's stomping grounds at the University of North Carolina Wilmington (UNCW). The usual suspects were called, myself, Kelsey Vance, and Draper White were back on the road. We all arrived at the airport as scheduled and made our way to Wilmington with a much needed stop for some proper, whole hog, North Carolina BBQ.
Andrea hosted us while in Wilmington, beer was provided as we watched with trepidation as the beautiful weather we arrived to quickly deteriorated. Our original plan to photograph Patricia on Wrightsville beach was looking grim. Rainy weather is not great for camera equipment and we feared the portrait might not happen. Patricia and I decided to leave the decision for the early morning.
Conditions didn't improve much overnight, but the rain seemed to have broken up a bit on the coast. "I'll bring my raincoat and boots," Patricia said, reasoning with the weather. That's what I love about working with these scientists, bad weather happens so just suck it up and make do. Once we got to the beach and located our paleontologist hunkered down in her car, we realized rain was not the only issue, the wind was growing stronger by the minute, and we hadn't even made it to the beach. Patricia was warm and friendly, even though we had made her get out of bed and stand in the rain for an hour. Together we fought the elements, blocking the lens on the camera to avoid sprays from the rain and the ocean. When Kelsey was ready to shoot, we jumped away from the lens, Patricia held up the seashell she had brought, and we captured a beautiful portrait of this outstanding scientist.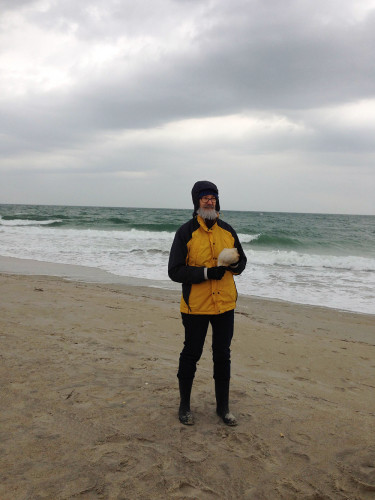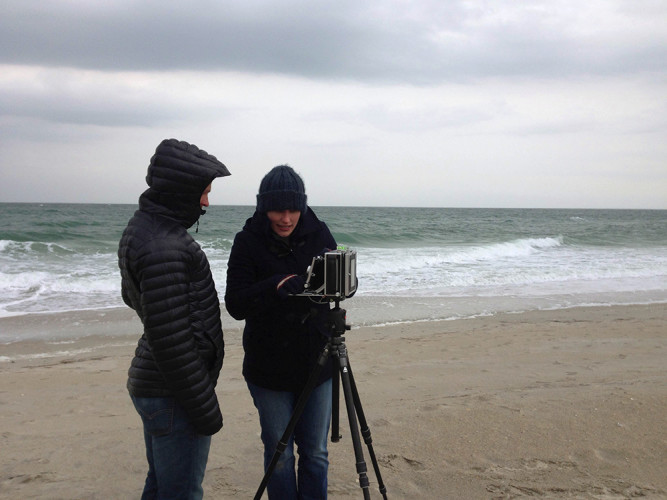 With the portrait complete, Patricia peeled off her facial hair and made a mad dash to her Ph.D student's defense. These paleontologists can really multitask. As soon as Patricia left, the rain stopped and the wind slowed to a warm breeze. This is documentary filmmaking, it's not always sunshine and rainbows when you want them. Our team ran back down to the water to capture some pictures for ourselves, then, in true Bearded Lady fashion, scouted out a good coffee shop to warm up in. After the defense, we met Patricia in her office for her official interview. Like many of the paleontologists we interviewed before her, Patricia's office was a field site on it's own. One of the first things we noticed were these children's paintings of dinosaurs that hung along the wall. "Are these your children's paintings." I asked. "These are my paintings from when I was seven," she said with pride, "they were on display at the Cleveland Museum of Natural History." As Draper set up the camera equipment, Kelsey and I marvelled at the shelves filled with awards (lots and lots of awards), fossils, and family photos. On the walls, posters of Johnny Depp kept a close eye on us from his multiple vantage points. "My daughter and I are huge fans."
When I conduct the interviews, I try to follow the guidelines for the Finkbeiner Test. Anything that the scientists would like to add to the conversation is up to them. Patricia, who had worked her way up to department chair, felt it important to discuss the maternity leave standards she had implemented as a leader in her department. "Simply stopping the tenure clock can make all the difference." Dr. Kelley discussed her personal experiences of being a mother and a faculty member. From her experience, she knew what changes needed to be made to keep the dedicated female scientists on track. She ended the conversation with confidence in the future, acknowledging that with male faculty members taking on more of the childcare duties, there is a better understanding and willingness to create a more accommodating workplace for the working parent.
A little over a year ago, in October 2014, we attended Geological Society of America's National Conference (GSA) in Vancouver, BC. We had no idea what we were walking into, but spent the long weekend with our eyes and ears open. We met a number of paleontologists who expressed interest in our little known project and left Vancouver with a handful of business cards and some people to follow up with. Success! One year later, we were no longer just visitors but we were now scheduled to present at GSA 2015 in Baltimore, MD.
We presented first thing on Sunday morning in the diversity session: Closing the Diversity Gap in Geoscience: Successful Models, Best Practices, Benefits, Outcomes and Next Steps; the title of our presentation was The Bearded Lady Project: A Creative Response to Gender Stereotypes in Paleontology.  Here are the highlights of our presentation:
We showed a selection of bearded portraits and premiered our latest trailer which highlights the locations we have been to in the past year and half. Haven't seen it? Click here!
Our talk was well attended and seemingly well received.  There were excellent questions raised by the audience that have kept us thinking about aspects of our project as we move forward. Click here for a review of our talk.
Many more women became interested in joining the project and folks from other organizations approached us about developing outreach programming (very encouraging).
Highlights from GSA Baltimore, 2015
We had the pleasure of reconnecting with Beth Stricker, curator for the traveling exhibition of the history of women in American paleontology.
Attended the Paleontological Society Dinner & Award Ceremony, PRI Happy Hour, African Geoscience Meeting, and the Penn State Alumni Party, all of which we met knew folks that had and hadn't heard about the projects.
Became members of the Association FOR Women Geoscientists; men are welcome to join!
Conducted a whole mess of shameless self-promotion, as one does when networking.
And got to spend some time with Ellen, our favorite paleobotanist.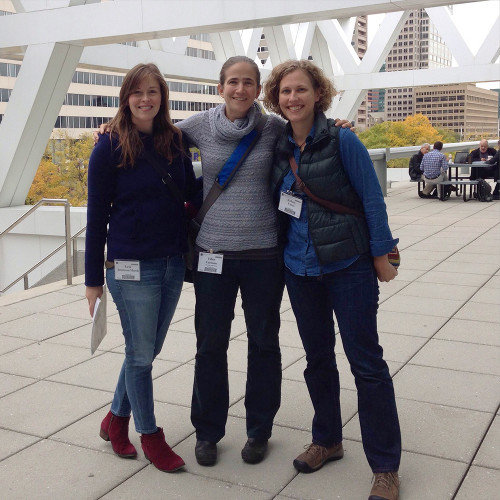 The primary highlight of attending GSA, was being able to reconnect with some previous bearded lady participants. We are always grateful to have respectable female scientists participate in our project. We often hear from some of the women once we've returned home that the experience was different than what they expected, but altogether enjoyable, while restoring a sense of pride in their abilities as scientists (without the beard).
The Bearded Lady Project is a dream come true, it is a project that for the past year and a half, I have had the great pleasure to direct and produce. There are a lot of unknowns when filming a documentary, and although these shoots are by far my favorite, they are often my most challenging to produce. They require a lot of hustle, creativity, and a willingness to have fun while getting dirty, which is why it is crucial to select crew members who can do a bang up job while rolling with the punches. So at 4:10 AM, mere hours after wrapping our shoot in Kentucky, my camera operator, Megan Cafferty, cracked jokes while skillfully maneuvering the dark roads of rural Ohio. We may have just started our long journey out west, but I already knew my key requirements for my crew were well met. Wyoming was off to a great start.
There was a lot to be excited for on this particular shoot. Personally, I was excited to be staying with Ellen, mostly because I could maximise my time with my friend but also because our crew would have running water and access to refrigerated food (not always the case) on this particular shoot. I was feeling pretty confident as I crossed off the notes on my checklist. Eliana, our director of photography, had successfully made it from Spain to Denver in 24 hours, our equipment arrived undamaged, our rental car was a decent size, and at present, we were sharing one of the famous cinnamon buns at Johnson's Corner. Check! Next on my list, text Ellen with our ETA. I sent the text and went to pay the bill. Ellen replied almost instantly: "I might have a stomach bug."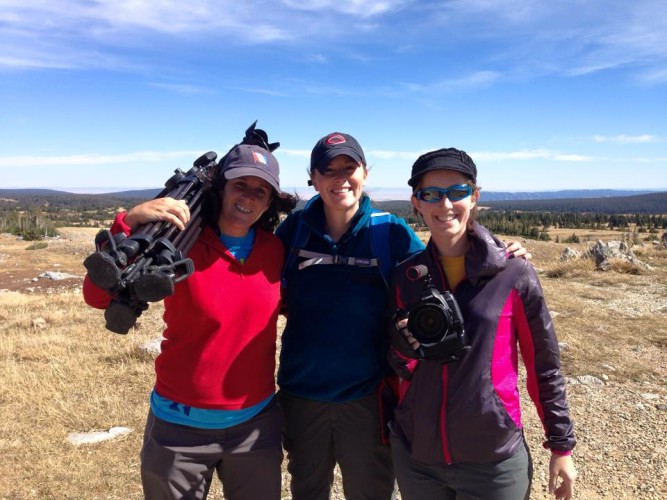 Commence panic mode. As a producer, there are worst case scenarios running through my head at all times, ever changing, ever evolving, but hopefully, and hopefully, never coming to pass. Of all the potential problems I had factored in during my prep for this shoot, Ellen's getting sick was not one of them. I didn't know what to do. I stood there, picturing Ellen on her deathbed while my crew waited for me in the car. Even though panic was rising like bile in my throat, I calmly broke down the facts, of which I currently had none. They went something like this: Ellen was sick. Probably pukey sick. She would most likely look sick on camera. I wouldn't be able to get all the beautiful hiking shots of her. Probably no interview. We were in town for three days. What if it was just a 24 hour bug? My crew was staying at her house. We could all get sick! I could book a hotel. What would that do to our budget? The questions and depressing realizations seemed endless. That's when a quote from my Ultimate Frisbee coach (yes, I was an Ultimate player back in the day) popped into my head: "Focus on the things you can control, not on the things you can't." Okay. New list. A positive list of actions we could take now. We had an interview with another woman we could still film. We had a working car full of equipment. We could drive around Laramie and document the school. We could go hiking ourselves. It was a beautiful day and we were feeling energized from breakfast. We could make the most of this. After I informed the crew that Ellen was feeling a bit "under the weather" and our schedule would need to be adjusted, we headed to Laramie and began filming the town. Halfway through our updated shoot, Ellen texted me saying, "I think I'll be okay, going to teach now." That woman is a trooper!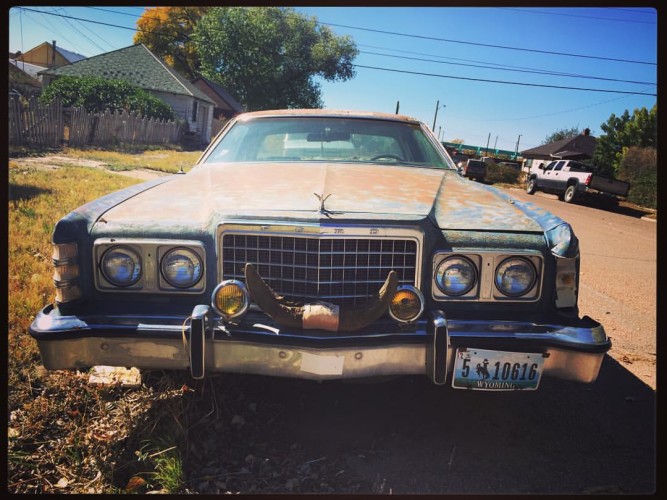 It was a beautiful day in Laramie, and even though I had only spent a few hours there a year ago, I felt like I knew the place really well. First stop, Coal Creek Coffee shop. Megan, Eliana and I grabbed some coffee and wandered around town. At first we shot everything with university's logo of the cowboy, stopping every time we recognized the gold image. After a while we realized it was difficult to film much without the cowboy, he was on everything from bank signs to trash cans, brown and gold was everywhere. By the time Ellen finished teaching, we had collected some excellent b-roll. We loaded our gear and drove to Ellen's to see how she was doing. She arrived via her bike. As I've mentioned many times, Ellen is a total badass. When someone says stomach flu, they are usually out for the count. When Ellen has a stomach flu, she can still ride her bike, organize a welcome BBQ for our crew, and bake a belated Birthday cake for my 30th. Needless to say, our shoot was back on schedule!
The following morning we went up to the Snowy mountains for a "hike" with Ellen. When I told her I wanted to film her hiking, she didn't realize that this would be movie "hiking," and that our pace would be much slower and would require her to walk the same stretch more than once.Finally the big moment came, Ellen's interview. She was looking and feeling much better, and the weather was in our favor. We discovered an ideal location with a background of golden aspen trees which became Ellen's backdrop. Eliana became our log hunter, somehow finding the perfect size for all of us to sit on during our two hour interview. I think we were all a bit nervous going into this but Ellen's interview went better than I could have hoped for. I'd say more but I've got a movie to make. Day 1 was wrapped and our team headed out for our first, of many, delicious Laramie Pizza.

On our second day in Laramie, Ellen got a break from the cameras as we would be spending the day with her friend and fellow paleontologist, Kelli Trujillo.  Before I had actually met Kelli, I thought she was about twelve different people because of the variety of stories Ellen had told me about her. If there is a person to know in Laramie, Kelli is THE person. Kelli's Laramie roots go deep, she works at the local dog rescue, she plays bluegrass at the Farmer's market, she designed one of the local outdoor concert venues, "I told them they needed outlets everywhere!" and she is a beer judge. There are a lot more fun facts I could about Kelli, but one I think everyone knows once they meet her is her glowing joy and warmth. Kelli welcomed our crew with big hugs before we went on the second "hike" of our shoot, this time to Happy Jack Canyon.
Happy Jack Canyon is a quick fifteen minute drive from Laramie. We unloaded our equipment while Kelli unloaded her dogs, Wendell and Ella. Like Ellen, Kelli was happy to do our bidding, walking this way and that. The dogs were good sports too. Once again, Eliana discovered the perfect logs for us to sit on, and we provided Kelli with a beautiful backdrop to compliment her interview. Kelli's interview is one I am really excited to share with everyone because she has quite literally blazed her own trail. One of the more important topics we discussed during her interview was confidence. Kelli admitted to being scared off by science and math at first, "I think my brain wasn't ready" she said. But Kelli did end up returning and now teaches math. "I do believe that overcoming my fears makes me a better teacher, because I know how important it is to build confidence at an early age."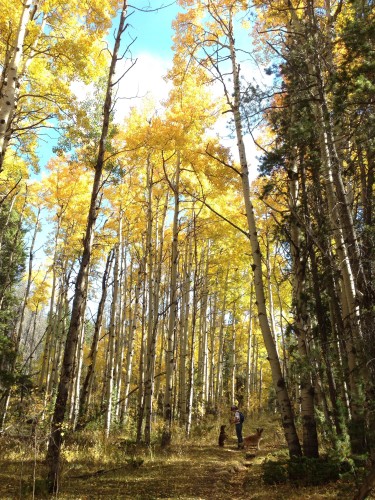 After we wrapped a particularly inspirational interview with Kelli, we all went out for more Laramie pizza and beer (recommended to us by our new beer judge buddy) before heading back to Ellen's to prepare for the Supermoon. Vedauwoo recreation area was our decided location to take a timelapse of the moon. We had scouted the location earlier with Kelli and were sold once we saw the unique rock formations. We packed up the car, bringing with us a delicious homemade meal, leftover birthday cake, beer and blankets, and went back out to Vadauwoo. Now for the big question, where was the moon going to appear? We had one shot and couldn't change locations once we started our timelapse. Our crew tried to remember the direction Kelly pointed us in earlier that day, but we were were not feeling too confident. Then Eliana, our original log hero, pulled out her phone and brought up a star map app. "It's going to appear over there!" But there was nowhere to park or stand. Ellen drove back and forth, trying to help us locate an ideal spot, while Eliana tracked the moon with her app. Finally, I saw a little alcove that provided ample seating for our group of friends as well as a fantastic rock formation to highlight the moon.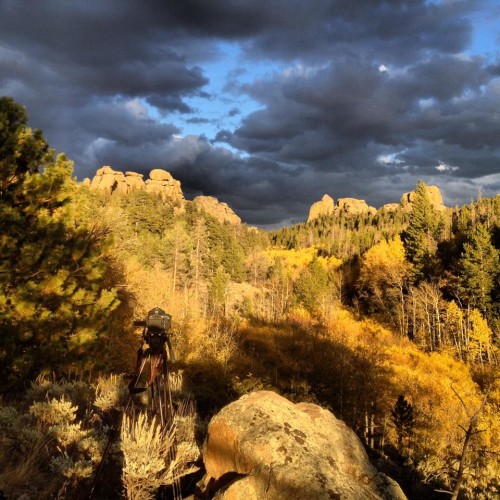 We ended our shoot by following Ellen into her classroom where she spoke in front of over a hundred students in a large lecture hall. While Eliana and Megan moved around the room, filming Ellen at all different angles, I got to sit back and watch my friend in her element. When Ellen and I began this journey, making a movie about her life as a paleontologist, I never questioned whether or not Ellen would be the right choice as our lead subject. Now after a year and a half of filming, seeing her in all the different leadership roles that are required of her by her job; researcher, teacher, survivalist, lab manager, grant writer, teacher, presenter, I am more and more convinced that Ellen is the ideal person to drive this story. No one could tell it or live it better.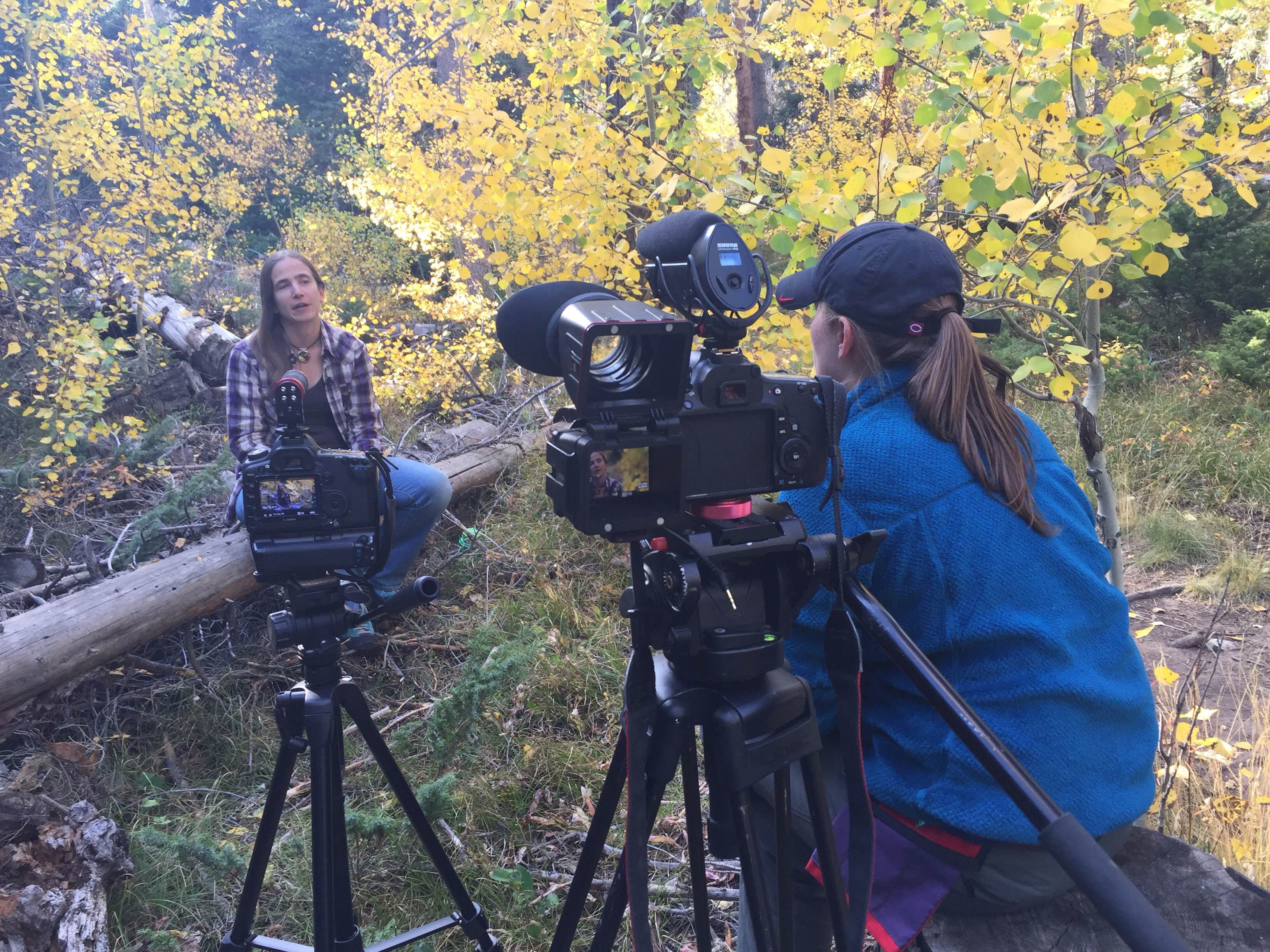 Way back in September we had our first local shoot. Let's start off by saying how GREAT it is to not have to pack our bags and gear for a flight! What luxury! As some of you may know Lexi and I are located in Southwest Ohio, a real paleontological hot bed, we know. But, it turns out, that there are some folks that do paleo research throughout the Ohio Valley. One of those people is Dr. Kate Bulinski at Bellarmine University in Louisville, Kentucky.
We met up with Dr. Bulinski on her campus and set up for her interview in a beautiful, quiet corner near the chapel (Bellarmine is a Catholic University). So you can have a little insight into the kind of person Dr. Bulinski is, she surprised us during her interview with a story about a black widow spider she encountered while in the field. Instead of running from the spider or removing her person to a different location where the deadly spider was not, she grabbed a stick to poke it and get a better view of it up close—curious scientist, I would say so. More importantly, during the interview she talked about how her position at Bellarmine is perfect for her because of its close proximity to areas she's really interested in studying, the banks of the Ohio River. For someone to successfully study the fossils there, they need to be located nearby since the fossils are under water the majority of the year. Expensive field excursions need not apply for Dr. Bulinski, she has everything she needs in her back yard.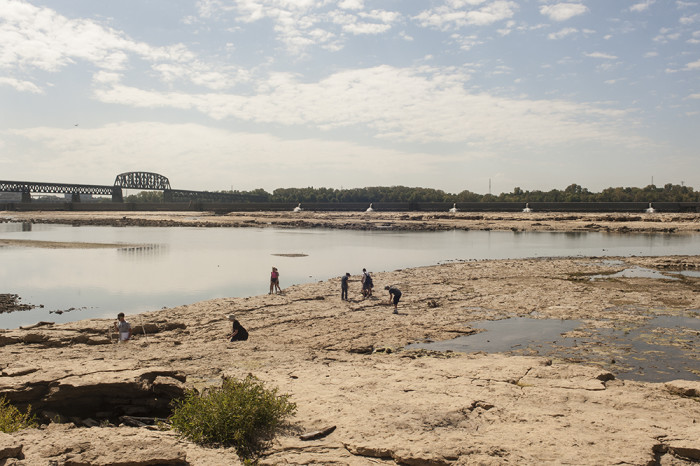 This was a new kind of shoot for us since it was the first time we would be going into the field with someone's entire class. We followed Dr. Bulinski to the Falls of Ohio State Park (don't be fooled by the name, it's just a dam) on the Indiana side of the Ohio River. The location was similar to Lyme Regis with large areas of fossil beds; in laymen's terms, large slabs of flat rock that are completely covered with fossils. It's incredible, there are so many fossils! We filmed Dr. Bulinski working with her students and the park educator that accompanied the class to the site for further background on the site. The students were given buckets, scrub brushes and PVC squares to isolate an area to investigate. They did look like they were there to clean up the place, but the simple household tools proved to be very effective; with a splash of water and a few quick scrubs, the fossils in the rock were fully exposed and ready for proper inspection and classification.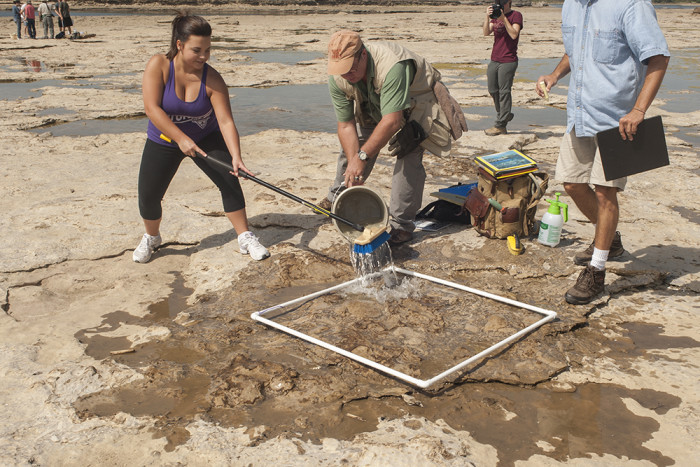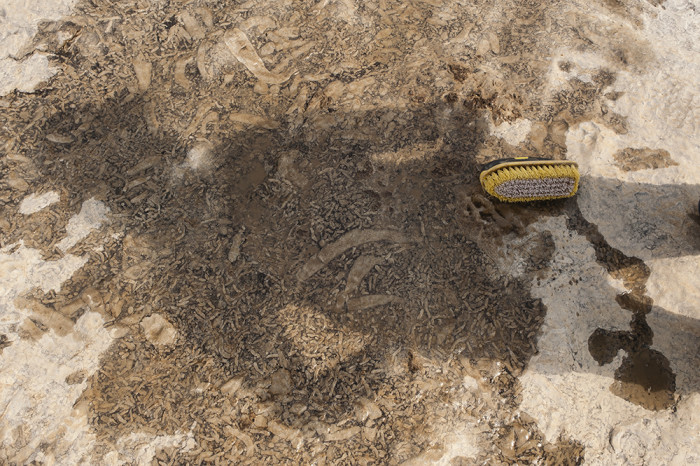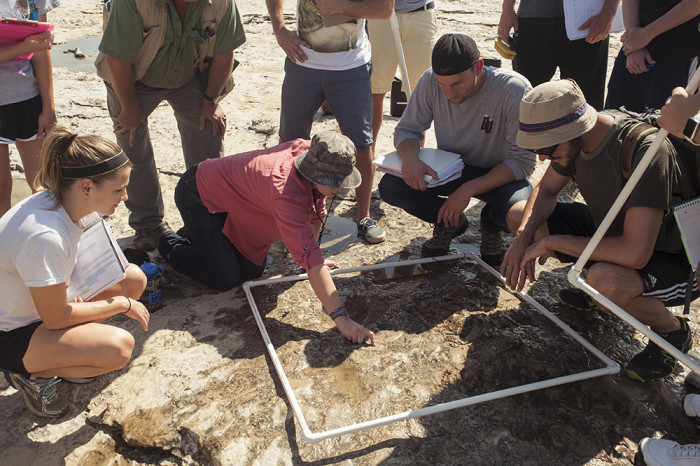 Once the students were settled into their groups and familiarized with their task, we stole Dr. Bulinski from them so we could get some facial hair on her and make a portrait. We were very lucky with the weather that day, no rain and bright sun, but without shade and it being early afternoon, it was not the ideal time of light for making a portrait. We were fortunate enough to have a sky dotted with large fluffy white clouds and a subject that was patient enough to wait for those clouds to cover the sun for a little light diffusion. During longer breaks of sunshine, Dr. Bulinski caught up with her students, beard and all, to make sure they were on the right track. I'm always excited about the portraits I make on our shoots, but I'm particularly excited for Dr. Bulinski's. It's the first we have with students in the background and the first to have a mid-western skyline. Not all paleontology is in remote, exotic locations!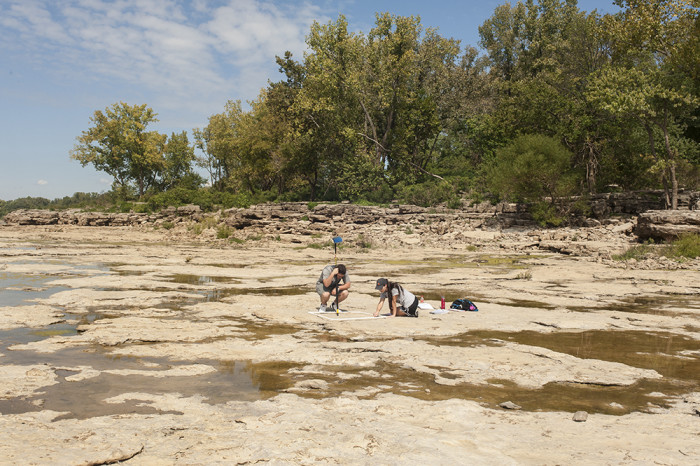 On a slightly different note, this was our first shoot with Director of Photography Megan Cafferty. Megan lives in Cincinnati and has worked on several commercial shoots with Lexi. She fit right into our little crew and is one hard working gal. The day after this shoot, Lexi and Megan flew out to Wyoming to meet up with Ellen for her big interview and to check out her new lab at the University of Wyoming. Lexi will fill you in on the details of that trip in the near future.
Without further ado, we are finally updating you, dear readers, with our summer adventures.  We apologize for the delay while we got caught up with our lives after a lot of travel.
The Bearded Lady Project made its first international journey to get a behind the scenes look at University of Exeter's Wild FIRE Lab lead by Dr. Claire Belcher.  Let's just start by saying THANK YOU, Dr. Belcher, for everything you did to help us get to your lab!
Now, I'm sure you're curious about the WILD FIRE part of this lab.  Dr. Belcher and her lab consisting of Dr. Vicky Hudspith, post-doc; Sarah Baker, PhD candidate; Stacy New, masters student; and Mark Grosvenor, ERC Research Technician are looking at the effects of fire on the environment.  Fossils can't be burned, so they find living relatives and burn samples in a machine that was designed to study wild fires.  The machine simulates the heat of the fire, creates a spark to ignite the sample as it would in the wild, and collects all sorts of data (smoke, weight, heat, etc) while it burns.  Once cooled, the charcoal samples are then embedded in resin, polished with a diamond slurry, and inspected under a microscope.  It is so cool.
Upon arrival in Exeter, Dr. Belcher and Dr. Hudspith lead us through campus on the walking tour they developed with the university to demonstrate the different periods of Earth's developments from mossy rocks, to deciduous trees, to flowering plants.  The highlight of the tour, though, was when we would encounter an interesting plant and Claire or Vicky would exclaim "I wonder how that would burn?!"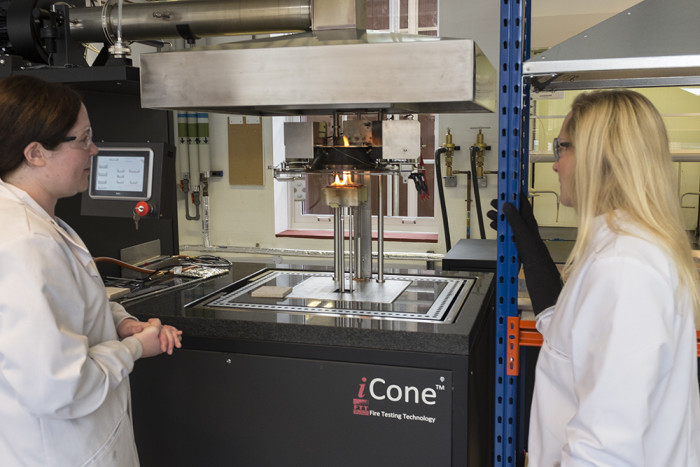 Sarah's lab work involves dissolving rocks in acid to isolate the fossils within them.  A process that takes several weeks and many exchanges of acid, requiring Sarah to put on her hazmat suit, prepare the acids, slowly pour acid into containers with her rock samples.  Sarah's work reminded us just how much time and patience it takes to conduct this kind of research.  Quote: "It takes probably about three weeks to do a batch of just six samples, so it's quite time consuming."
We followed Dr. Belcher and Sarah to Lyme Regis where they collected some samples from the same cliffs that Mary Anning collected samples from (and surrendered to the men for further study) in the mid-1800s.  It was a really great feeling to be on the same beach that Mary Anning worked on and see the ammonite fossils in the pavement at the shore.  We were also very fortunate with the weather while on the beach, something we weren't anticipating and all of us ended up with sunburns!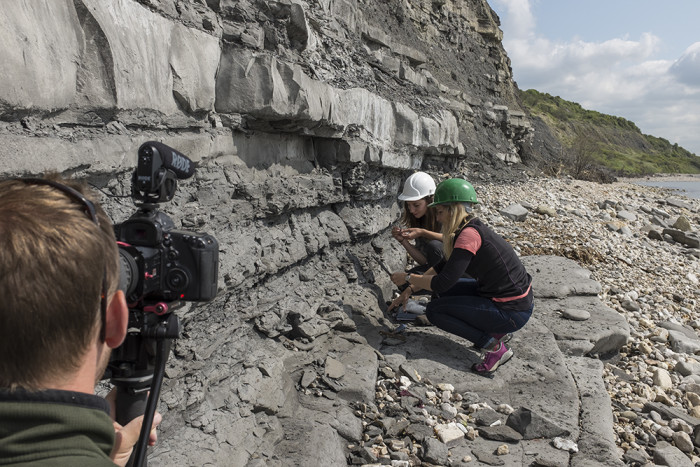 While in Lyme Regis, we also connected with some young scientists pursuing degrees in paleontology and working for the Mary Anning Museum for the summer.  They were a good group and willing to stand for their bearded portraits.  What we hadn't quite realized when we traveled to Lyme Regis, was how much of an impact the tide would make on our schedule.  At high tide, there is little to no access to some of the areas where the fossils are most plentiful. It took a lot of walking, an elongated lunch break, and some very patient paleontologists for us to make their portraits.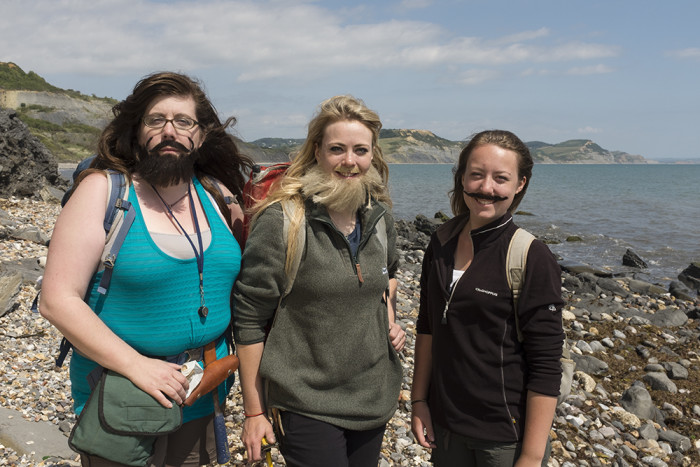 We covered a lot of ground in our few days in southwestern England and learned a lot about some very fascinating research, we sampled the "cream tea" (delicious but not what you would think it would be… simply tea with cream and served with scones), way too much for me to go into detail here so you'll just have watch the documentary when we're done.  And Claire, Vicky and Sarah all gave us some great interviews with perspectives and insights that we hadn't yet encountered.
Since we were flying out of London, we concluded our trip with a bit of tourism in the big city.  It was a nice break after a busy shoot and gave us a chance to recover from our surprise sunburns.
In closing, this trip would not have been possible without the financial support from the Paleontological Society with their Outreach and Education Grant and the University of Exeter, as well as the grant writing efforts of Dr. Ellen Currano and Dr. Claire Belcher.  Team BLP is so pleased to have been some of the beneficiaries of Dr. Belcher's outreach efforts.  She is very generous with her time, which we witnessed first hand by her collaboration with local artists and by ensuring that her students get everything they need while learning from her so they can go on to be well rounded paleontologist when they leave her lab.  Dr. Belcher is an impressive force.