November: Team TBLP Presents at GSA 2015
By Kelsey on February 19, 2016
A little over a year ago, in October 2014, we attended Geological Society of America's National Conference (GSA) in Vancouver, BC. We had no idea what we were walking into, but spent the long weekend with our eyes and ears open. We met a number of paleontologists who expressed interest in our little known project and left Vancouver with a handful of business cards and some people to follow up with. Success! One year later, we were no longer just visitors but we were now scheduled to present at GSA 2015 in Baltimore, MD.
We presented first thing on Sunday morning in the diversity session: Closing the Diversity Gap in Geoscience: Successful Models, Best Practices, Benefits, Outcomes and Next Steps; the title of our presentation was The Bearded Lady Project: A Creative Response to Gender Stereotypes in Paleontology.  Here are the highlights of our presentation:
We showed a selection of bearded portraits and premiered our latest trailer which highlights the locations we have been to in the past year and half. Haven't seen it? Click here!
Our talk was well attended and seemingly well received.  There were excellent questions raised by the audience that have kept us thinking about aspects of our project as we move forward. Click here for a review of our talk.
Many more women became interested in joining the project and folks from other organizations approached us about developing outreach programming (very encouraging).
Highlights from GSA Baltimore, 2015
We had the pleasure of reconnecting with Beth Stricker, curator for the traveling exhibition of the history of women in American paleontology.
Attended the Paleontological Society Dinner & Award Ceremony, PRI Happy Hour, African Geoscience Meeting, and the Penn State Alumni Party, all of which we met knew folks that had and hadn't heard about the projects.
Became members of the Association FOR Women Geoscientists; men are welcome to join!
Conducted a whole mess of shameless self-promotion, as one does when networking.
And got to spend some time with Ellen, our favorite paleobotanist.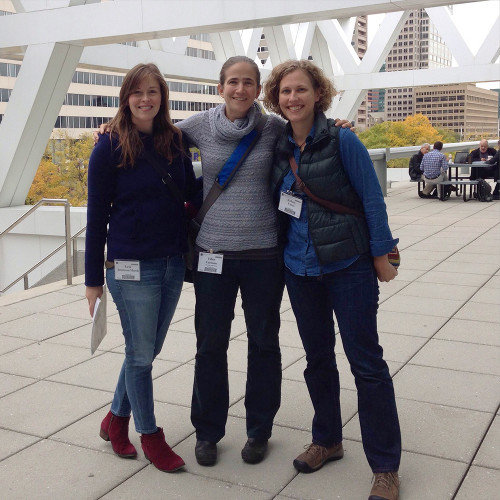 The primary highlight of attending GSA, was being able to reconnect with some previous bearded lady participants. We are always grateful to have respectable female scientists participate in our project. We often hear from some of the women once we've returned home that the experience was different than what they expected, but altogether enjoyable, while restoring a sense of pride in their abilities as scientists (without the beard).