September: Return to Laradise
By Lexi on January 12, 2016
The Bearded Lady Project is a dream come true, it is a project that for the past year and a half, I have had the great pleasure to direct and produce. There are a lot of unknowns when filming a documentary, and although these shoots are by far my favorite, they are often my most challenging to produce. They require a lot of hustle, creativity, and a willingness to have fun while getting dirty, which is why it is crucial to select crew members who can do a bang up job while rolling with the punches. So at 4:10 AM, mere hours after wrapping our shoot in Kentucky, my camera operator, Megan Cafferty, cracked jokes while skillfully maneuvering the dark roads of rural Ohio. We may have just started our long journey out west, but I already knew my key requirements for my crew were well met. Wyoming was off to a great start.
There was a lot to be excited for on this particular shoot. Personally, I was excited to be staying with Ellen, mostly because I could maximise my time with my friend but also because our crew would have running water and access to refrigerated food (not always the case) on this particular shoot. I was feeling pretty confident as I crossed off the notes on my checklist. Eliana, our director of photography, had successfully made it from Spain to Denver in 24 hours, our equipment arrived undamaged, our rental car was a decent size, and at present, we were sharing one of the famous cinnamon buns at Johnson's Corner. Check! Next on my list, text Ellen with our ETA. I sent the text and went to pay the bill. Ellen replied almost instantly: "I might have a stomach bug."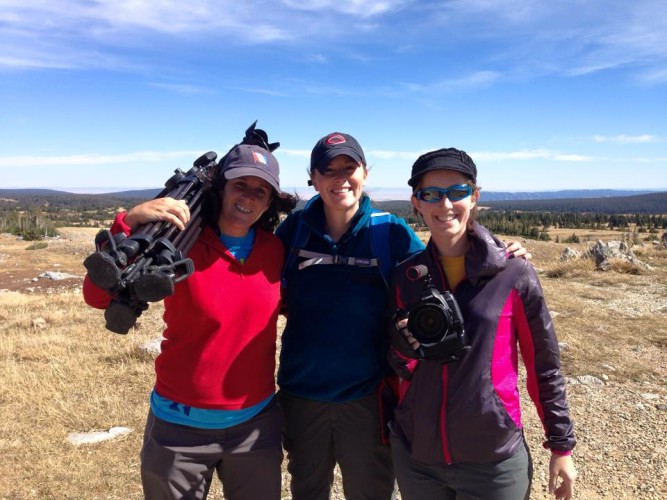 Commence panic mode. As a producer, there are worst case scenarios running through my head at all times, ever changing, ever evolving, but hopefully, and hopefully, never coming to pass. Of all the potential problems I had factored in during my prep for this shoot, Ellen's getting sick was not one of them. I didn't know what to do. I stood there, picturing Ellen on her deathbed while my crew waited for me in the car. Even though panic was rising like bile in my throat, I calmly broke down the facts, of which I currently had none. They went something like this: Ellen was sick. Probably pukey sick. She would most likely look sick on camera. I wouldn't be able to get all the beautiful hiking shots of her. Probably no interview. We were in town for three days. What if it was just a 24 hour bug? My crew was staying at her house. We could all get sick! I could book a hotel. What would that do to our budget? The questions and depressing realizations seemed endless. That's when a quote from my Ultimate Frisbee coach (yes, I was an Ultimate player back in the day) popped into my head: "Focus on the things you can control, not on the things you can't." Okay. New list. A positive list of actions we could take now. We had an interview with another woman we could still film. We had a working car full of equipment. We could drive around Laramie and document the school. We could go hiking ourselves. It was a beautiful day and we were feeling energized from breakfast. We could make the most of this. After I informed the crew that Ellen was feeling a bit "under the weather" and our schedule would need to be adjusted, we headed to Laramie and began filming the town. Halfway through our updated shoot, Ellen texted me saying, "I think I'll be okay, going to teach now." That woman is a trooper!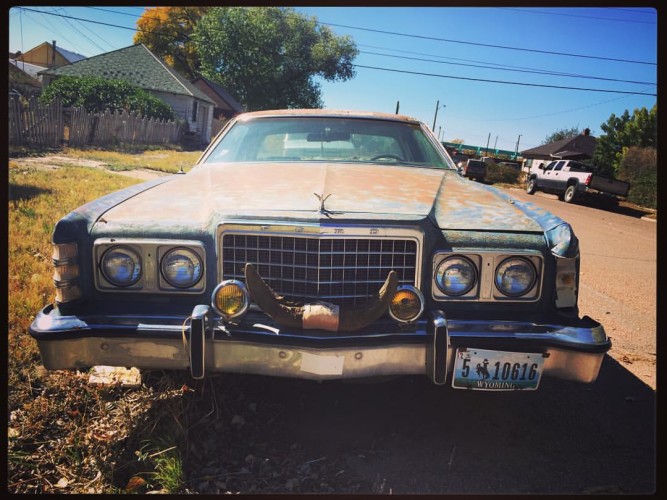 It was a beautiful day in Laramie, and even though I had only spent a few hours there a year ago, I felt like I knew the place really well. First stop, Coal Creek Coffee shop. Megan, Eliana and I grabbed some coffee and wandered around town. At first we shot everything with university's logo of the cowboy, stopping every time we recognized the gold image. After a while we realized it was difficult to film much without the cowboy, he was on everything from bank signs to trash cans, brown and gold was everywhere. By the time Ellen finished teaching, we had collected some excellent b-roll. We loaded our gear and drove to Ellen's to see how she was doing. She arrived via her bike. As I've mentioned many times, Ellen is a total badass. When someone says stomach flu, they are usually out for the count. When Ellen has a stomach flu, she can still ride her bike, organize a welcome BBQ for our crew, and bake a belated Birthday cake for my 30th. Needless to say, our shoot was back on schedule!
The following morning we went up to the Snowy mountains for a "hike" with Ellen. When I told her I wanted to film her hiking, she didn't realize that this would be movie "hiking," and that our pace would be much slower and would require her to walk the same stretch more than once.Finally the big moment came, Ellen's interview. She was looking and feeling much better, and the weather was in our favor. We discovered an ideal location with a background of golden aspen trees which became Ellen's backdrop. Eliana became our log hunter, somehow finding the perfect size for all of us to sit on during our two hour interview. I think we were all a bit nervous going into this but Ellen's interview went better than I could have hoped for. I'd say more but I've got a movie to make. Day 1 was wrapped and our team headed out for our first, of many, delicious Laramie Pizza.

On our second day in Laramie, Ellen got a break from the cameras as we would be spending the day with her friend and fellow paleontologist, Kelli Trujillo.  Before I had actually met Kelli, I thought she was about twelve different people because of the variety of stories Ellen had told me about her. If there is a person to know in Laramie, Kelli is THE person. Kelli's Laramie roots go deep, she works at the local dog rescue, she plays bluegrass at the Farmer's market, she designed one of the local outdoor concert venues, "I told them they needed outlets everywhere!" and she is a beer judge. There are a lot more fun facts I could about Kelli, but one I think everyone knows once they meet her is her glowing joy and warmth. Kelli welcomed our crew with big hugs before we went on the second "hike" of our shoot, this time to Happy Jack Canyon.
Happy Jack Canyon is a quick fifteen minute drive from Laramie. We unloaded our equipment while Kelli unloaded her dogs, Wendell and Ella. Like Ellen, Kelli was happy to do our bidding, walking this way and that. The dogs were good sports too. Once again, Eliana discovered the perfect logs for us to sit on, and we provided Kelli with a beautiful backdrop to compliment her interview. Kelli's interview is one I am really excited to share with everyone because she has quite literally blazed her own trail. One of the more important topics we discussed during her interview was confidence. Kelli admitted to being scared off by science and math at first, "I think my brain wasn't ready" she said. But Kelli did end up returning and now teaches math. "I do believe that overcoming my fears makes me a better teacher, because I know how important it is to build confidence at an early age."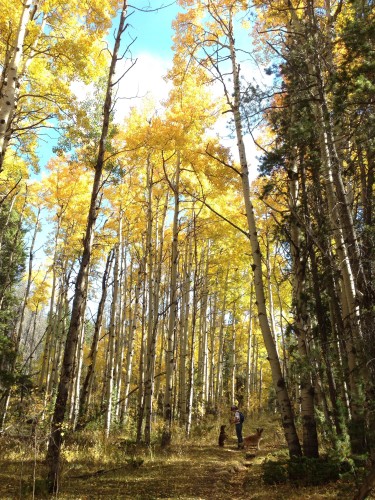 After we wrapped a particularly inspirational interview with Kelli, we all went out for more Laramie pizza and beer (recommended to us by our new beer judge buddy) before heading back to Ellen's to prepare for the Supermoon. Vedauwoo recreation area was our decided location to take a timelapse of the moon. We had scouted the location earlier with Kelli and were sold once we saw the unique rock formations. We packed up the car, bringing with us a delicious homemade meal, leftover birthday cake, beer and blankets, and went back out to Vadauwoo. Now for the big question, where was the moon going to appear? We had one shot and couldn't change locations once we started our timelapse. Our crew tried to remember the direction Kelly pointed us in earlier that day, but we were were not feeling too confident. Then Eliana, our original log hero, pulled out her phone and brought up a star map app. "It's going to appear over there!" But there was nowhere to park or stand. Ellen drove back and forth, trying to help us locate an ideal spot, while Eliana tracked the moon with her app. Finally, I saw a little alcove that provided ample seating for our group of friends as well as a fantastic rock formation to highlight the moon.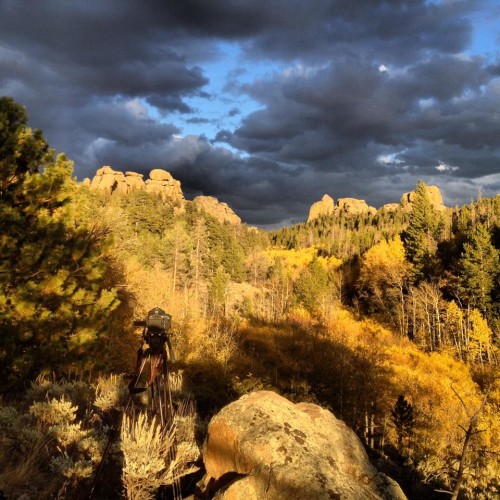 We ended our shoot by following Ellen into her classroom where she spoke in front of over a hundred students in a large lecture hall. While Eliana and Megan moved around the room, filming Ellen at all different angles, I got to sit back and watch my friend in her element. When Ellen and I began this journey, making a movie about her life as a paleontologist, I never questioned whether or not Ellen would be the right choice as our lead subject. Now after a year and a half of filming, seeing her in all the different leadership roles that are required of her by her job; researcher, teacher, survivalist, lab manager, grant writer, teacher, presenter, I am more and more convinced that Ellen is the ideal person to drive this story. No one could tell it or live it better.