February: Winter Coastal Adventures Pt. 1
By Lexi on April 11, 2016
When Kelsey and I traveled to Vancouver to attend our first scientific conference, the Geological Society of America's annual meeting, we had no clue what we were getting into. We were in search of paleontologists to include in our film and exhibition, but where to find them in the sea of geoscientists before us? With beers in hand, we wandered the exhibition hall and approached a friendly looking individual and asked if she was a paleontologist. This friendly person was Dr. Andrea Hawkes, someone we would follow into the field in 2015. "If you're really looking for a paleontologist to interview," she said to us, "you should ask that woman over there" and that woman was Dr. Patricia Kelley.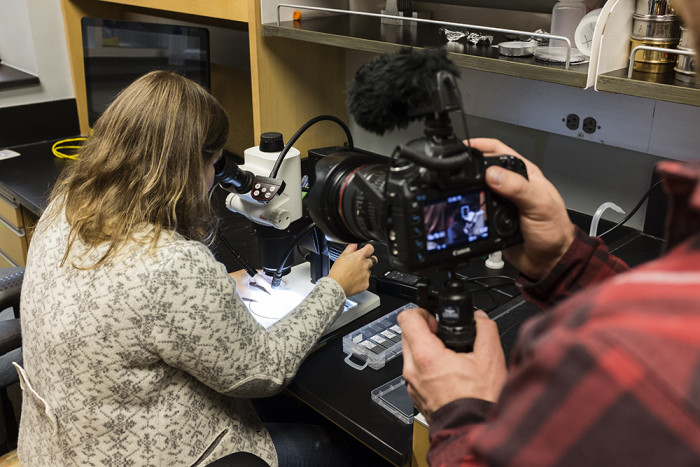 It took us almost a year and a half, but we finally made it to Patricia's stomping grounds at the University of North Carolina Wilmington (UNCW). The usual suspects were called, myself, Kelsey Vance, and Draper White were back on the road. We all arrived at the airport as scheduled and made our way to Wilmington with a much needed stop for some proper, whole hog, North Carolina BBQ.
Andrea hosted us while in Wilmington, beer was provided as we watched with trepidation as the beautiful weather we arrived to quickly deteriorated. Our original plan to photograph Patricia on Wrightsville beach was looking grim. Rainy weather is not great for camera equipment and we feared the portrait might not happen. Patricia and I decided to leave the decision for the early morning.
Conditions didn't improve much overnight, but the rain seemed to have broken up a bit on the coast. "I'll bring my raincoat and boots," Patricia said, reasoning with the weather. That's what I love about working with these scientists, bad weather happens so just suck it up and make do. Once we got to the beach and located our paleontologist hunkered down in her car, we realized rain was not the only issue, the wind was growing stronger by the minute, and we hadn't even made it to the beach. Patricia was warm and friendly, even though we had made her get out of bed and stand in the rain for an hour. Together we fought the elements, blocking the lens on the camera to avoid sprays from the rain and the ocean. When Kelsey was ready to shoot, we jumped away from the lens, Patricia held up the seashell she had brought, and we captured a beautiful portrait of this outstanding scientist.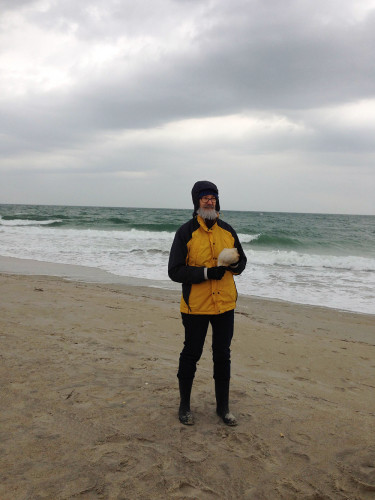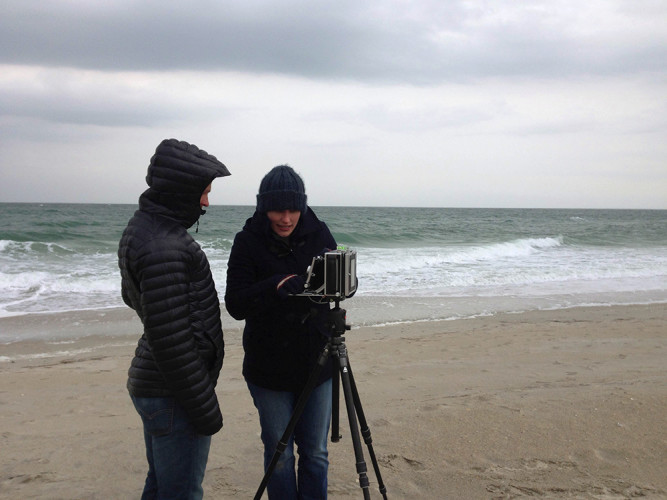 With the portrait complete, Patricia peeled off her facial hair and made a mad dash to her Ph.D student's defense. These paleontologists can really multitask. As soon as Patricia left, the rain stopped and the wind slowed to a warm breeze. This is documentary filmmaking, it's not always sunshine and rainbows when you want them. Our team ran back down to the water to capture some pictures for ourselves, then, in true Bearded Lady fashion, scouted out a good coffee shop to warm up in. After the defense, we met Patricia in her office for her official interview. Like many of the paleontologists we interviewed before her, Patricia's office was a field site on it's own. One of the first things we noticed were these children's paintings of dinosaurs that hung along the wall. "Are these your children's paintings." I asked. "These are my paintings from when I was seven," she said with pride, "they were on display at the Cleveland Museum of Natural History." As Draper set up the camera equipment, Kelsey and I marvelled at the shelves filled with awards (lots and lots of awards), fossils, and family photos. On the walls, posters of Johnny Depp kept a close eye on us from his multiple vantage points. "My daughter and I are huge fans."
When I conduct the interviews, I try to follow the guidelines for the Finkbeiner Test. Anything that the scientists would like to add to the conversation is up to them. Patricia, who had worked her way up to department chair, felt it important to discuss the maternity leave standards she had implemented as a leader in her department. "Simply stopping the tenure clock can make all the difference." Dr. Kelley discussed her personal experiences of being a mother and a faculty member. From her experience, she knew what changes needed to be made to keep the dedicated female scientists on track. She ended the conversation with confidence in the future, acknowledging that with male faculty members taking on more of the childcare duties, there is a better understanding and willingness to create a more accommodating workplace for the working parent.