TBLP Goes International with Dr. Claire Belcher
By Kelsey on November 2, 2015
Without further ado, we are finally updating you, dear readers, with our summer adventures.  We apologize for the delay while we got caught up with our lives after a lot of travel.
The Bearded Lady Project made its first international journey to get a behind the scenes look at University of Exeter's Wild FIRE Lab lead by Dr. Claire Belcher.  Let's just start by saying THANK YOU, Dr. Belcher, for everything you did to help us get to your lab!
Now, I'm sure you're curious about the WILD FIRE part of this lab.  Dr. Belcher and her lab consisting of Dr. Vicky Hudspith, post-doc; Sarah Baker, PhD candidate; Stacy New, masters student; and Mark Grosvenor, ERC Research Technician are looking at the effects of fire on the environment.  Fossils can't be burned, so they find living relatives and burn samples in a machine that was designed to study wild fires.  The machine simulates the heat of the fire, creates a spark to ignite the sample as it would in the wild, and collects all sorts of data (smoke, weight, heat, etc) while it burns.  Once cooled, the charcoal samples are then embedded in resin, polished with a diamond slurry, and inspected under a microscope.  It is so cool.
Upon arrival in Exeter, Dr. Belcher and Dr. Hudspith lead us through campus on the walking tour they developed with the university to demonstrate the different periods of Earth's developments from mossy rocks, to deciduous trees, to flowering plants.  The highlight of the tour, though, was when we would encounter an interesting plant and Claire or Vicky would exclaim "I wonder how that would burn?!"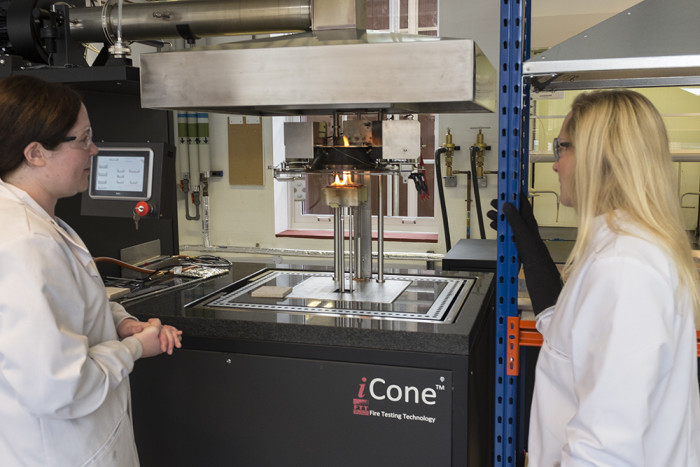 Sarah's lab work involves dissolving rocks in acid to isolate the fossils within them.  A process that takes several weeks and many exchanges of acid, requiring Sarah to put on her hazmat suit, prepare the acids, slowly pour acid into containers with her rock samples.  Sarah's work reminded us just how much time and patience it takes to conduct this kind of research.  Quote: "It takes probably about three weeks to do a batch of just six samples, so it's quite time consuming."
We followed Dr. Belcher and Sarah to Lyme Regis where they collected some samples from the same cliffs that Mary Anning collected samples from (and surrendered to the men for further study) in the mid-1800s.  It was a really great feeling to be on the same beach that Mary Anning worked on and see the ammonite fossils in the pavement at the shore.  We were also very fortunate with the weather while on the beach, something we weren't anticipating and all of us ended up with sunburns!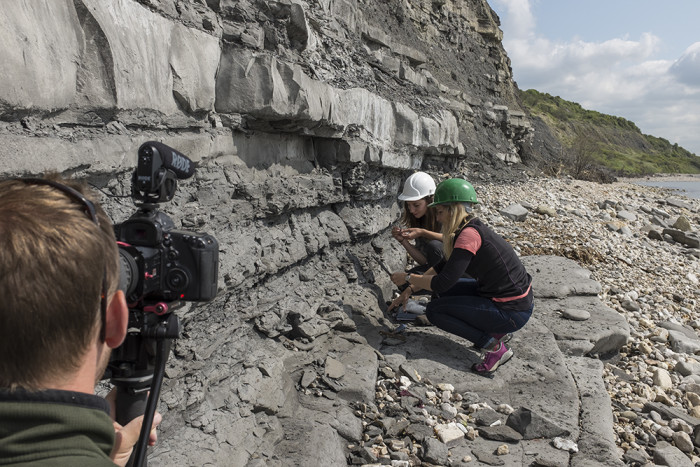 While in Lyme Regis, we also connected with some young scientists pursuing degrees in paleontology and working for the Mary Anning Museum for the summer.  They were a good group and willing to stand for their bearded portraits.  What we hadn't quite realized when we traveled to Lyme Regis, was how much of an impact the tide would make on our schedule.  At high tide, there is little to no access to some of the areas where the fossils are most plentiful. It took a lot of walking, an elongated lunch break, and some very patient paleontologists for us to make their portraits.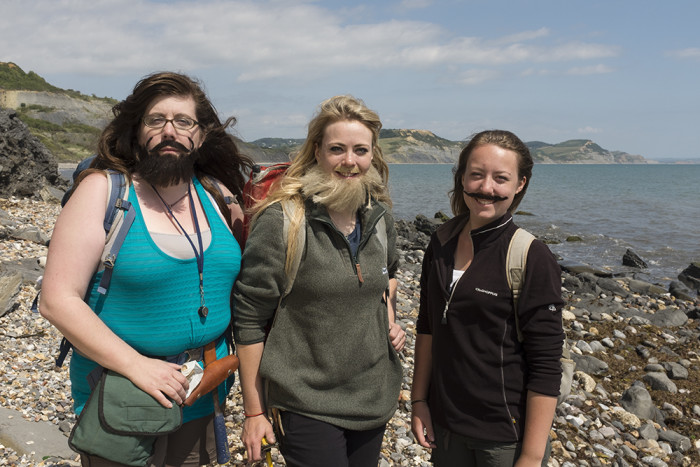 We covered a lot of ground in our few days in southwestern England and learned a lot about some very fascinating research, we sampled the "cream tea" (delicious but not what you would think it would be… simply tea with cream and served with scones), way too much for me to go into detail here so you'll just have watch the documentary when we're done.  And Claire, Vicky and Sarah all gave us some great interviews with perspectives and insights that we hadn't yet encountered.
Since we were flying out of London, we concluded our trip with a bit of tourism in the big city.  It was a nice break after a busy shoot and gave us a chance to recover from our surprise sunburns.
In closing, this trip would not have been possible without the financial support from the Paleontological Society with their Outreach and Education Grant and the University of Exeter, as well as the grant writing efforts of Dr. Ellen Currano and Dr. Claire Belcher.  Team BLP is so pleased to have been some of the beneficiaries of Dr. Belcher's outreach efforts.  She is very generous with her time, which we witnessed first hand by her collaboration with local artists and by ensuring that her students get everything they need while learning from her so they can go on to be well rounded paleontologist when they leave her lab.  Dr. Belcher is an impressive force.